Guides to Using Starfall
Second Grade ELA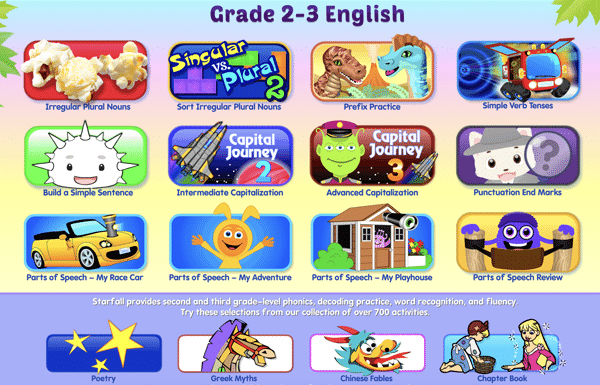 From irregular plural nouns and simple verb tenses to punctuation and building silly sentences, our 2nd grade English Language Arts activities help learners establish recognition and understanding of parts of speech and written language. Explore the galaxy practicing capitalization or go back in time to learn prefixes with dinosaurs—our 2nd grade ELA activities have something for every learner!
Parts of Speech
Show CCSS
In second grade, learners are able to demonstrate their understanding of the parts of speech and how they function in simple and compound sentences.
Featured Activities
Featured Products
Supplemental Parent-Teacher Center Resources
Match Irregular Nouns
Pronoun Pirate Questions
Dinosaur Verbs
Adverb and Verb Connection
Conventions of Written Language
Show CCSS
As second grade learners build their understanding and use of different parts of speech, they will also build their ability to follow the conventions of English punctuation, capitalization, and spelling.
Featured Activities
Supplemental Parent-Teacher Center Resources
Capitalize Discovery
Punctuation Investigation
Complete the Sentences 2
Vocabulary Acquisition and Use
Show CCSS
Second graders are learning new vocabulary on a daily basis; some taught to students explicitly while other vocabulary is acquired on the student's own.
Social-Emotional Learning
As learners grow, social and emotional skills help them develop healthy identities, manage emotions, achieve goals, practice empathy, build and maintain healthy relationships, and make responsible decisions.