Guides to Using Starfall
Second Grade Reading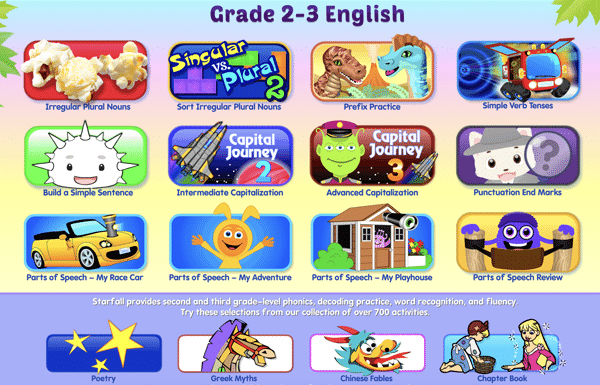 Starfall's unique foundational program—one of the first online reading programs!—has been helping kids learn to read independently for over 20 years. Developed and tested in the classroom, our reading activities follow evidence-based methods recommended by the NICHD National Reading Panel, including explicit instruction in phonemic awareness, systematic phonics instruction, and methods to improve fluency and comprehension. Readers at the 2nd grade level explore:
Fun!: Fun to Read—Learners build their vocabulary and phonemic awareness with the popular All About Me avatar, phonics magic, rhyming tongue twisters, art, music, and poetry.
Fluency and Comprehension: I'm Reading!—Scaffolding in both fiction and non-fiction texts helps to reduce reading anxiety and improves comprehension, allowing struggling readers to develop self-confidence.
Independent Reading
Show CCSS
It's Fun to Read!
In our It's Fun to Read activities, children can explore the creative side of their imaginations while reading along with stories about famous artists and composers to reinforce reading and phonics skills.
I'm Reading
Children experience cultural diversity in literature while reading Greek myths and Chinese fables.
Featured Activities
Associated Products
Music and Cultural Awareness
Show CCSS
Children enjoy a glimpse of times past as they listen and learn traditional American folk songs.
Featured Activities
Associated Products
Independent and Advanced Reading
Show CCSS
Talking Library
Children enter a library where they read a variety of text that includes fiction, nonfiction and poetry.
Featured Activities
Associated Products
More Phonics
Children may progress at their individual paces using texts that become increasingly more challenging.
Confidence in their reading skills will increase as they naturally progress from reader to reader.
The subject matter adapts to the level of the reader and ranges from simple fiction to more complex nonfiction.
Each unit targets specific phonics skills.